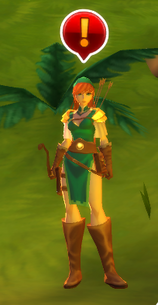 Back to NPCs.
Level: 1
Location: Greenguard
Dialogue:
Hi! You look like you're ready for an adventure. I'm Robina Hood and I look after the forests near Battleon. I like a monster hunt as much as the next ranger, but recently the monsters have been pushing closer and closer to Battleon. If I want to keep Battleon safe, I need to find out why. Feel like giving a girl a hand?
Talk Responses:
"Rob from the rich and give to the monsters," That's always been my motto! How do you think all that gold got onto the monsters you fight? It might seem hunting monsters is a weird way to protect Greenguard Forest, but if there are too many monsters, food gets scarce and everyone suffers... even the monsters.
Quests:
Shops:
Nearby NPCs:
Stats:
| | | | |
| --- | --- | --- | --- |
| Health | 141 | Attack | 141 |
| Mana | 141 | Defense | 141 |
| Bonus | | Resists | |
| Dodge | +0% | Fire | +0% |
| Hit | +0% | Ice | +0% |
| Crit | +0% | Nature | +0% |
| Crit Power | +0% | Energy | +0% |
Also see Robina (Barrow Point)