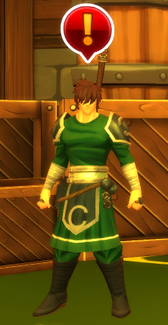 Back to NPCs.
Level: 1
Location: Cysero's Forge
Dialogue:
Hiya! Looking for some fine, magically crafted weaponry? Then you've come to the right place! Or I'm in the wrong place but you found me anyway. Either way... I got what you need! Feel free to look around but I wouldn't touch anything if I were you. But, you're you and I'm someone else so... here we are.
Talk Responses:
You may think that making weapons is an odd choice for a utilitarian mage such as myself, but I have to find some way to fund my magical experiments. Magical research doesn't come cheap and heroes always need weapons so it works out for everyone! Now... where did I put that sock?
Quests:
Shops:
Nearby NPCs: None.
Stats:
| | | | |
| --- | --- | --- | --- |
| Health | 96 | Attack | 96 |
| Mana | 96 | Defense | 96 |
| Bonus | | Resists | |
| Dodge | +0% | Fire | +0% |
| Hit | +0% | Ice | +0% |
| Crit | +0% | Nature | +0% |
| Crit Power | +0% | Energy | +0% |