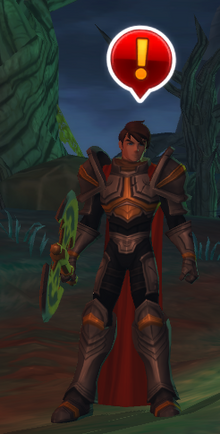 Back to NPCs.
Level: 1
Location: Doomwood Forest
Dialogue:
Greetings and salutations! Welcome to Doomwood... it might look like a gloomy haunted forest to some, but it is a sunny day at the beach for me. I came to help this paladin order restock this outpost and could really use your help. BATTLE ON!
Talk Responses:
The Paladin Order set up the Doomwood Watch to investigate and to contain the spread of the undead any further. It does not seem like they are watching very much. I wish they would have called me sooner. I have been tasked with uncovering the fate of my brothers and sisters in arms.
Quests:
Shops:
Nearby NPCs: None.
Stats:
| | | | |
| --- | --- | --- | --- |
| Health | 141 | Attack | 141 |
| Mana | 141 | Defense | 141 |
| Bonus | | Resists | |
| Dodge | +0% | Fire | +0% |
| Hit | +0% | Ice | +0% |
| Crit | +0% | Nature | +0% |
| Crit Power | +0% | Energy | +0% |